Personal Awareness & Responsibility
Personal Awareness and Responsibility involves understanding the connections between personal and social behaviour and well-being; it encourages people to make constructive and ethical decisions and act on them.
People who are personally aware and responsible demonstrate self-respect, persevere in difficult situations, and exercise responsibility. They understand that there are consequences for their decisions and actions. A personally aware and responsible individual takes steps to ensure their well-being, sets goals and monitors progress, regulates emotions and manages stress, and recognizes and advocates for their own rights.
Facets:
Self-advocating
Students who are personally aware and responsible have a sense of self-worth and a growing confidence in a variety of situations. They value themselves, their ideas, and their accomplishments. They are able to express their needs and seek help when needed, find purpose and motivation, act on decisions, and advocate for themselves.
Self-regulating
Students who are personally aware and responsible take ownership of their choices and actions. They set goals, monitor progress, and understand their emotions, using that understanding to regulate actions and reactions. They are aware that learning involves patience and time. They can persevere in difficult situations, and to understand how their actions affect themselves and others.
Well-being
Students who are personally aware and responsible recognize the factors that affect their holistic wellness and take increasing responsibility for caring for themselves. They keep themselves healthy and stay active, manage stress, and express a sense of personal well-being. They make choices that contribute to their safety in their communities, including their online communities and use of social media. They recognize their personal responsibility for their happiness and have strategies that help them find peace in challenging situations.
Profiles: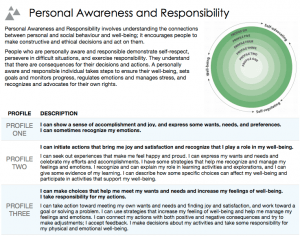 Source: https://curriculum.gov.bc.ca/competencies/personal-and-social/personal-awareness-and-responsibility
_____________________________________________________________________________
SD60 ILLUSTRATIONS – PERSONAL AWARENESS & RESPONSIBILITY
____________________________________________________________________________
#1 PERSONAL AWARENESS & RESPONSIBILITY ILLUSTRATION
Description of Illustration:
The student is being assessed to determine possible access locations (example:  hand, head) for him to operate a switch to determine if he understands cause and effect (i.e. he understands that he controls the toy's operation through the switch).  Assessments will determine which switch type and access point is best to ease the student's physical participation.  This then promotes communication (such as:  using a switch to participate in reading) and participation in daily activities such as using the switch to operate a blender in Foods class, or operating a switch adapted guitar during Music class, or operating a switch adapted drum for "drum roll" at assemblies.  Advanced switch operation may ultimately allow for independent operation of a power wheelchair.
When the Speech Language Pathologist and Physiotherapist were asked about Kashton's engagement and response, they said:
"It is amazing to witness firsthand how a child's world can open, when he or she is provided with the right physical set-up, equipment, and motivating tools to foster engagement and participation.  To help create a situation that brings such joy to a child is truly a unique experience.  His laughter was contagious; we shared his joy!  All of our kids have things to tell us and to teach us.  Our job is to find ways to support that."
SD60 – Learning Services, Lisa Boda (PT) & Stephanie Soderquist-Loney (SLP)