Book Walks to Build Speech-Language Skills
Our School District No. 60 Speech-Language pathologists have been working hard to provide strategies and lessons for classroom teachers to implement in the regular classroom environment. Using engaging, well written children's literature, they have created a book walk where each lesson is designed to encourage the development of skills in the following areas:  receptive vocabulary, sentence building, using description, role play and recall, phonological awareness, category naming and item action and function.
We think that teachers and children alike will love these motivating lessons as they read wonderful stories of friendship and adventure!  Go to your library, get the book and give it a try!  If you should have any requests for a Book Walk Lesson for a particular children's book, please feel free to contact our department through our Administrative Assistant at 250-262-6098.
Download the MASTER TEMPLATE to create your own!  MastertemplateVOCAB
The Rainbow Fish    By:  Marcus Pfister
The award-winning book about a beautiful fish who finds friendship and happiness when he learns to share is now available in a board book edition for the youngest child.
Download: 
From Head to Toe    By:  Eric Carle
What does an elephant do? It stomps its foot. Can you?  Watching giraffes bend their necks or monkeys wave their arms is fun, but nothing could be better than joining in. From their heads down to their toes, kids will be wriggling, jiggling, and giggling as they try to keep up with these animals!Alligators wiggle, elephants stop, gorillas thump, and giraffes bend. Can you do it? ' I can do it!' is the confidence-building message of this fun-filled interactive picture book. A variety of familiar animals invite young children to copy their antics, and as they play, they will learn such important skills as careful listening, focusing attention, and following instructions.
Download:  HeadtoToeBookwalk
Goodnight Moon    By:  Margaret Wise Brown
In a great green room, tucked away in bed, is a little bunny. "Goodnight room, goodnight moon." And to all the familiar things in the softly lit room–to the picture of the three little bears sitting in chairs, to the clocks and his socks, to the mittens and the kittens, to everything one by one–he says goodnight.
In this classic of modern children's literature, beloved by generations of readers and listeners, the quiet poetry of the words and the gentle, lulling illustrations combine to make a perfect book for the end of the day.
Download:  VOCABGoodnightMoon (1)
If You Give a Mouse a Cookie   
By:  Laura Numeroff
This book is a great first introduction to Mouse, the star of the If You Give series and a perennial favorite among children. And with its spare, rhythmic text and circular tale, If You Give a Mouse a Cookie is perfect for beginning readers and story time!
If a hungry little mouse shows up on your doorstep, you might want to give him a cookie. And if you give him a cookie, he'll ask for a glass of milk. He'll want to look in a mirror to make sure he doesn't have a milk mustache, and then he'll ask for a pair of scissors to give himself a trim….
Download:  VOCABIfYouGiveaMouseaCookie
Red Leaf, Yellow Leaf    By:  Lois Ehlert
Lois Ehlert uses watercolor collage and pieces of actual seeds, fabric, wire, and roots in this innovative and rich introduction to the life of a tree. A special glossary explains how roots absorb nutrients, what photosynthesis is, how sap circulates, and other facts about trees. "Children will beg to share this book over and over."
Download:  
Rhyming Pairs – Red Leaf, Yellow Leaf
Sunflower House    By:  Eve Bunting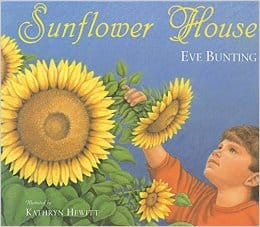 A little boy plants sunflower seeds in a big circle. He cares for them and watches them grow into a round wall of stems with golden flowers at the top. After playing in the "sunflower house" all summer, he and his friends collect the seeds from the dying plants to sow for next summer's flowers. Rhymed couplets written in first person express the boy's determination, surprise, and delight as he weaves his own play into the sunflowers' cycle from seed to seed.
Download:
Rhyming Pairs – Sunflower House
Snowballs    By:  Lois Ehlert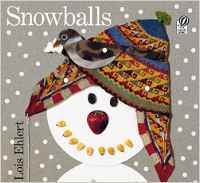 Pull on your mittens and head outside for a snowball day. Grab some snow and start rolling. With a few found objects – like buttons and fabric and seeds – and a little imagination, you can create a whole family out of snow. Children will love poring over Lois Ehlert's bold, funny illustrations and identifying the common (and not so common) objects she uses to decorate her snowy family.
Download:
Swimmy   By: Leo Lionni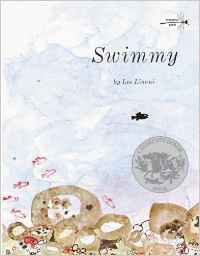 Deep in the sea there lives a happy school of little fish. Their watery world is full of wonders, but there is also danger, and the little fish are afraid to come out of hiding . . . until Swimmy comes along. Swimmy shows his friends how—with ingenuity and team work—they can overcome any danger. With its graceful text and stunning artwork, this Caldecott Honor Book deserves a place on every child's shelf.
Download:  VOCABSwimmy
The Big Red Barn   By: Margaret Wise Brown
By the big red barn
In the great green field,
There was a pink pig
Who was learning to squeal.
There were horses and sheep and goats and geese–and a jaunty old scarecrow leaning on his hoe. And they all lived together by the big red barn. In joyous and exuberant
Pictures, Felicia Bond lovingly evokes Margaret Wise Brown's simple, rhythmic text about the cycle of a day on a farm, where a family of animals peacefully plays and sleeps.
In the barnyard there are roosters and cows, horses and goats, and a pink piglet who is learning to squeal. Margaret Wise Brown's lulling story about a day in the life of a barnyard is now available as a sturdy board book. Felicia Bond's atmospheric illustrations add to the tranquil simplicity of this story.
Downloads:
The Mitten   By: Jan Brett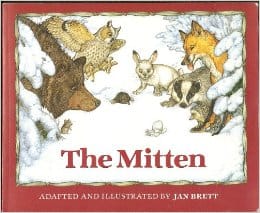 When Nicki drops his white mitten in the snow, he goes on without realizing that it is missing.
One by one, woodland animals find it and crawl in; first, a curious mole, then a rabbit, a badger and others, each one larger than the last. Finally, a big brown bear is followed in by a tiny brown mouse and what happens next makes for a wonderfully funny climax.
As the story of the animals in the mitten unfolds, the reader can see Nicki in the boarders of each page, walking through the woods unaware of what is going on.
Once again Jan Brett has created a dramatic and beautiful picture book in her distinctive style. She brings the animals to life with warmth and humor, and her illustrations are full of visual delights and details faithful to the Ukrainian tradition from which the story comes.
Downloads:
The Very Hungry Caterpillar  By: Eric Carle
"The very hungry caterpillar literally eats his way through the pages of the book—and right into your child's heart…"
Downloads:
Rhyming Pairs – The Very Hungry Caterpillar
Whatever Happened to the Dinosaurs  
By: Bernard Most
In this humorous look at some possible (and impossible) explanations for what made the dinosaurs disappear, bold lines and bright colors portray the prehistoric beasts at large in cities, in jungles, underground, and even in disguise.
Downloads:
VOCABWhateverHappenedToTheDinosaurs
Rhyming Pairs – Whatever Happened to the Dinosaurs (1)
Where's Spot?   By: Eric Hill
Spot is missing and everyone wants to find him in this bestselling Spot lift-the-flap book.
Download:  VOCABWheresSpot
Taan's Moons  By: Alison Gear
"This amazing story is a fine example of authentic Allies & representing Aboriginal knowledge. This book…is an amazing collaboration of children, Elders, community leaders, local artists, and educators. This beautifully crafted book is a wonder to read."
Downloads:
From Carmen Leed's Kindergarten Class at Robert Ogilvie:
A Poppy Is to Remember  
By: Heather Patterson & Ron Lightburn
How did the bright red poppy that we all wear in November become Canada's symbol of honouring those who fought for our freedom on Remembrance Day?
Moving text coupled with stunning illustrations by Governor General's Award-winning artist Ron Lightburn explain the symbolism behind the poppy.
A bonus for teachers is the five-page spread all about the poem, "In Flanders Fields," Canada's wartime and peacekeeping endeavours, and the adoption of the poppy as our Remembrance Day emblem.
Downloads:
Activity A Poppy Is to Remember
Rhyming Pairs A Poppy Is to Remember
Activity A Poppy Is to Remember